Fun Fact: In Dane County, Wisconsin, there's at least 1 farmers market open every day of the week!
As we celebrate National Farmers Market Week, #NFMW, we celebrate farmers, vendors, market managers, volunteers, visitors, and everyone else involved in the successes of farmers markets.
Thank you farmers…
For providing your community with fresh, local goods that are delicious and nutritious. Your hard work and dedication is not overlooked. Your essential work has been even more present throughout these past few months. We thank you for continuing to do your part in our food system so that everyone stays fed.
Thank you vendors…
For stimulating the local economy and continuing to attend the markets during these crazy times. Your goods and dedication to farmers markets is crucial to your community.
Thank you farmers market managers…
For fighting for and believing in farmers markets. For working overtime in order to make sure all farmers market visitors and vendors are safe. Your creative ideas have fostered food security for countless communities.
Thank you volunteers…
For donating your time and efforts to helping the farmers markets run smoothly. These markets would not be nearly as successful without your kind contribution to your community.
Thank you visitors…
For sticking with local food. No matter the reason, you are absolutely crucial for farmers markets to survive. Although safety regulations might be keeping you from getting the social benefits of farmers markets, the benefits of local food are stronger than ever. Thank you for your support!
To win free Farm 2 Facts stickers:

Visit your local farmers market
Tag @farm2facts in a photo on Facebook or Instagram
Use the hashtag #NFMW
Complete all 3 and you'll have a new sticker to add to your water bottle!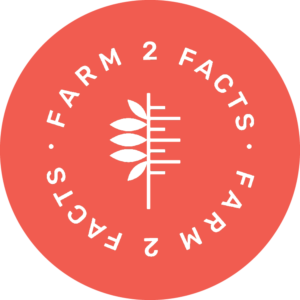 Statewise, there are 3,141 counties and over 8,600 registered USDA farmers markets, so…Find a farmers market near you!
National Farmers Market Week