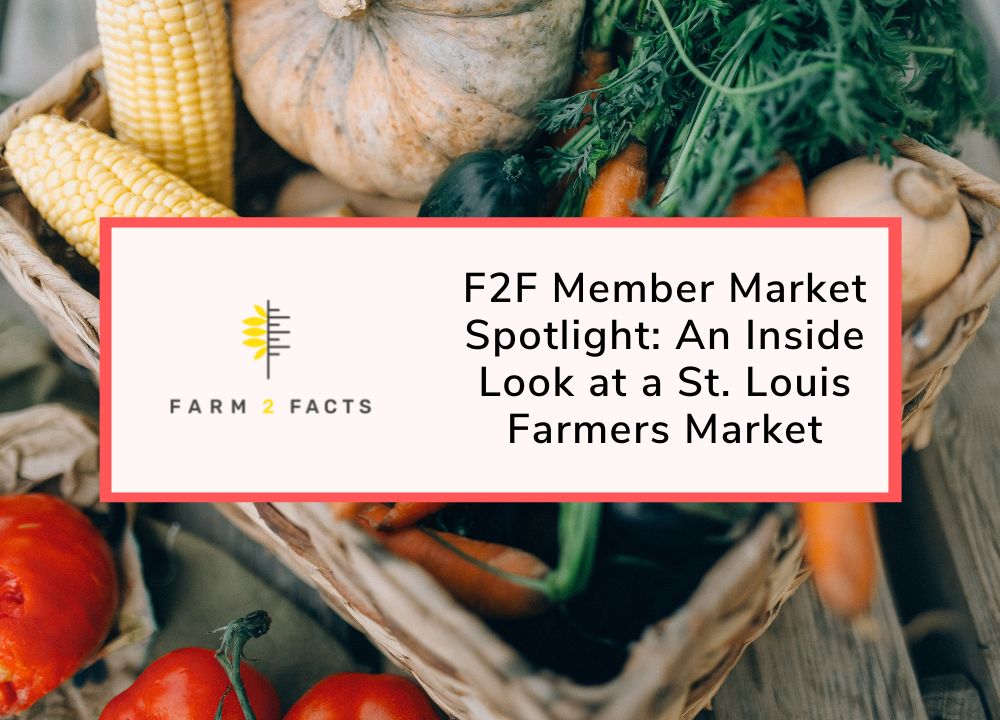 Farm 2 Facts is highlighting the St. Louis Farmers Market in this member spotlight. Farm 2 Facts staff had the opportunity to interview Linda Bader, market manager of St. Louis Farmers Market and president on the board of directors of Michigan Farmers Market Association (MIFMA).
---
Key Highlights from market manager Linda Badger
What motivated you to get involved in your role?
"Well, I had a garden of my own that we were just selling at a stand at the end of the driveway, and I wanted to start selling at farmer's markets. I started looking into that in the area and realized that my community didn't have a farmer's market. There was one about 10-15 miles away, but St. Louis [Michigan] didn't have one. So, I started looking online to see how to start a farmer's market and realized that we have a great state-wide organization called Michigan Famer's Market Association here in Michigan. And one of the things that they do is that they offer a Market Manager certificate program where you take online and in-person courses. You get to network with a lot of farmers market managers and hear about different people's experiences…that all really appealed to me. I talked to the city of St. Louis, and we also had a community meeting. Quite a bit of people showed up, vendors and community members that were interested in supporting a community market. That's kind of how we got started in 2016."
How long did that process take?
"It was a few months, and I actually started researching a few months before I started the classes. I would say it took about a year from the whole thinking about it to actually doing it…There's a lot that goes into it."
What kind of products or services does your market provide? Is there anything unique about your market?
"Fresh locally grown produce. We also have people that make baked goods, we call those cottage foods in Michigan. We have cottage food vendors that make baked goods and jam. We also have a meat vendor that comes with beef, pork, lamb, chicken, also eggs. We also have a vendor that makes a lot of sausages, pickled items, and some cheese. We have a vendor that does her own soaps, lotions, candles, and wax melts. She also does some crochet items. We also have some craft vendors. As long as they make it themselves, we allow those types of craft vendors. We've also had some jewelry. One thing that makes our farmers market unique is that because the St. Louis farmers market has a market manager, I was able to implement the bridge card, we accept the bridge card, we also participate in double up food bucks, so we are able to match their bridge card transactions. There's also a couple of programs in Michigan that give people incentives through coupons to eat more fruits and vegetables grown in Michigan. It's Wic Project FRESH. We also, this is our third year doing a prescription for health program. We partnered with MSU extensions, with the hospital, the local college, and a lot of other players that help us recruit people that may need to eat healthier in order to improve their health… We also do, during non-covid times, have music at the market and try to have MSU extensions or the hospital come and do cooking demonstrations. Those types of things are fun and make it like an event for people. We are hoping to get back to doing that type of stuff. "
Can you tell us more about the Prescription for Health Program?
"I haven't heard about this with a lot of other counties, but we're very collaborative. The county has a lot of organizations that work together, which I love. I belong to an organization called the Gratiot County Collaborative Council, and essentially it's a lot of nonprofits, and we all kinda serve the same people in the community, so we try and work together. The steering committee for that is called Live Well Gratiot, and we try to implement the ideas that the collaborative council comes up with…The Prescription for Health program was because of Live Well Gratiot, and we also have the community garden. The hospital, health department, the school districts, are all a part of that."
What would you say has been the most rewarding part of your job?
"The city of St. Louis is small, we don't even have a grocery store, so to be able to provide those fruits and vegetables right in our community that are locally grown. I think they taste a lot better, and are more nutritious, and to match all that with double-up food bucks, once my customers realize what a good deal that is, why would they shop anywhere else? So being able to do that makes a huge difference in people's lives because they are able to stretch their budget to get healthy food. That's probably the most rewarding thing, that's why I've kept doing this."
On the flip side, what has been the hardest part about your role? What are some challenges you have faced along the way?
"We are a small community, so it's always a challenge to get more vendors and attract more customers. We are not a tourist area or town, and especially with COVID, our number of vendors and customers went down in 2020… I thought this year things would start coming back up, but it's been slower…Less vendors and less customers than last year…The customers say, "we want more vendors," and the vendors will say, "how many people are coming," so it's a vicious circle. That's been the most challenging thing for me lately, and sustaining it. I just started this as a volunteer thing. We have grown every year since 2016, but I don't know if it's enough to entice someone else to do my job. My goal is to grow the market enough to sustain a paid market manager. With the hit that we took, that a lot of other small businesses took, in 2020, it knocked us back a few years. I'm hoping to get that growth again so we can be self-sustaining."
How many vendors did you average before and after COVID?
"We were up to 10-12. Sometimes we had as much as 17 a week. This year our average has been 5-6"
What do you wish you could tell the customers?
"I'm always trying to get the word out about the bridge card and the matching program. We do try really hard. We found that reaching out and putting out flyers at our local food pantry really helped. We also just want to let people know that we have this great resource for fresh fruits and vegetables. It tastes so much better, and you're supporting local businesses. If you can just get into the habit… It's good for you, it's good for the community, good for the vendors. It's kind of like an event in the community. You get to build a relationship with who you are buying your food from, and you also see your neighbors. That's kind of the message I like to give out."
How do you wish to see your market grow in the future?
"I'd like to see our number of vendors and customer base grow. We are also trying to find a spot to build a permanent structure that could have some nice amenities for vendors, for protection from the wind, weather, and have electricity and water. Having things like that could also attract more customers and vendors."
 To learn about the Michigan Farmers Market Association, check out: https://mifma.org/