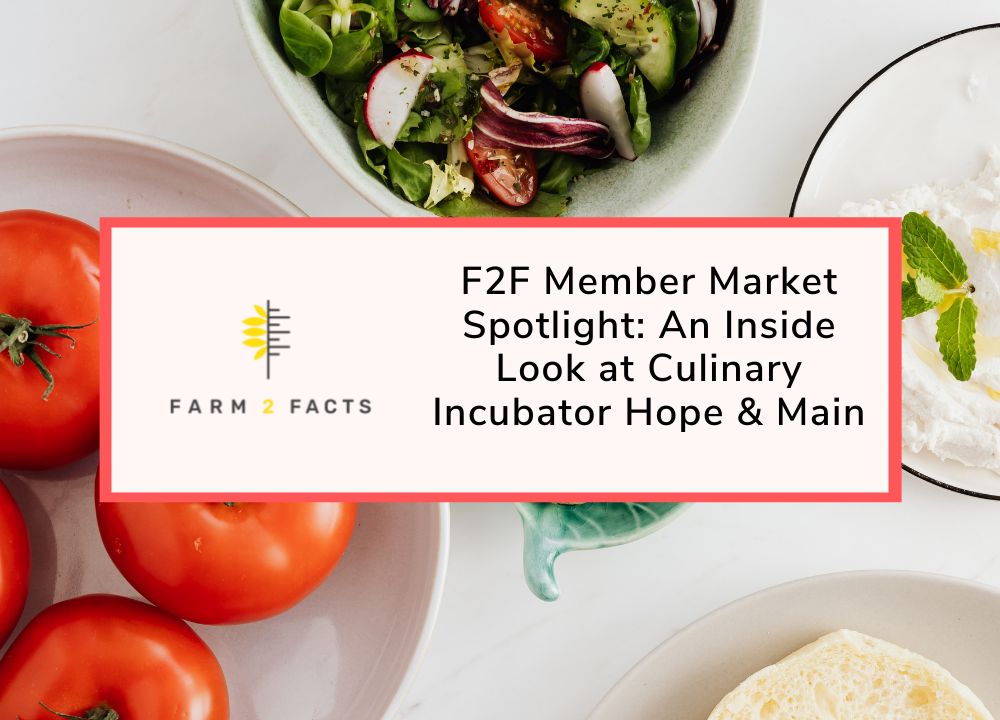 This month we are highlighting Rhode Island's first "premier culinary incubator," Hope and Main. A culinary incubator is a large space that includes several shared, licensed, commercial kitchens for rental or members. Hope and Main is designed to assist small businesses in becoming competitive by eliminating some of the barriers that traditional commercial kitchens entail. Hope and Main strives to empower inclusive entrepreneurs and have launched almost 300 businesses since 2014.
F2F staff interviewed Hope & Main's new market manager, Alison Mountford.
Key highlights from market manager Alison Mountford:
What kind of services/ products does Hope and Main provide?
"Hope and main is awesome- it's so unique. I know there's a couple culinary incubators across the country, but there aren't that many. We're in a small coastal town in Rhode Island and it's an old elementary school that was not being used for decades and they've converted it into five commercial kitchens. Right now, I think we have more than 80 different members who in one form or another come here to produce their food products and then sell it in a variety of ways. So we have people that are producing things directly for grocery stores, we have food trucks and caterers that are working here, tons of packaged products like crackers and granola, things like salsa and pickles, vegan meats…"
"People can join as a member and they can use the commercial kitchen to legally and safely produce their product and sell it however they sell. What's so unique about Hope and Main is that it's also run by a non-profit so there's a whole team of people that will help small business owners take their idea from dream to reality. We shepherd them through different cohorts for new entrepreneurs who might come in and say, "I wanna make my Grandma's cookies," and we help them get licensed, make sure they have a smart name and logo, help them scale up their recipe, and take it all the way to launch. The market is one part of the way we support them and help them learn how to sell in other farmer's markets, but we also give them another outlet for sales, and a way for them all to work together at least once a week during the summer."
That's really interesting, I've never really heard of a market being run like that.
"Yeah, Hope and Main calls itself a culinary incubator really, is what it is. So we're like a farmers market/ maker's market. We're in a kind of a rural area so there are a lot of farms and we have a lot of farmers who come in so we are selling produce at our farmer's market, so the town and neighbors can really come and do their local shopping here. But it also is very heavy on whichever products are being made in our commercial kitchen here. It's pretty unique in that sense. Earlier in my career, I used to have a small food business and I rented culinary kitchens and things but I had never seen anything like this type of set up before where businesses have resources here, people who can help them. The culinary inspector is here all the time and he knows us and he knows the businesses, and you can really get answers to your questions. It really feels like you're part of a team and you have a lot of support to take your business from this small idea to launch. It's very unique and super cool."
What motivated you to get involved in your role?
"I just started pretty recently, this is my first season here. I've been a chef for a long time, so prior to this I was shopping at farmer's markets, but more for my business and always supporting farmers. Even if I wasn't purchasing from the market, maybe buying from them wholesale, but it was just always a really important part of my community and something that got me interested in food in general. I recently relocated across the country, so I was looking for a way to engage in my new town and looking for something I'd be a good fit for, and this role came up with a really good organization that's beyond just the farmer's market. It was a clear fit for me and just having been involved in farmer's markets in so many different ways, I thought that this would be a really fun way to be involved that I hadn't done before. I did have a friend for a really long time that was a market manager so I knew what the role looked like, so to take on this role seemed like a logical and really exciting step."
You mentioned your start in the restaurant industry, how has that contributed to your role now?
"I think it does a lot, and that's the feedback I've been getting too because I've been in their shoes. I think a lot of times you have this separation of food policy, and people that are in food but not actually producing food. Because for years I had a business where I would have a stand at a farmers market, but now to be on the management side of things, it's just a perfect fit. I know what I need them to do for the market, but I also truly have done that for a long time and walked in their shoes: I've been there setting up for a market and I understand the calculator of production versus your different sales channels versus trying to meet a certain number of sales. I think it's been hugely helpful to understand what it feels like to be one of the vendors in the market, and hopefully I'm able to give people some tips and support on what's worked for me in the past and what hasn't. Instead of being on a theoretical market management level, it's on a personal experience level, and it's been a great fit.
What's the most rewarding part of your job?
"The most rewarding part of my job is seeing all these bright-eyed food entrepreneurs who just have so much passion behind what they're doing.
…to see these people who really believe in what they're doing and really just work so hard and do whatever it takes to make it a reality.
…the people behind the businesses and hearing every week about their individual stories, the challenges, and how they triumphed over that."
What growth do you wish to see in the future?
"This year we've had more businesses start here in 2020 and at the start of 2021 than I think in any year before. More people are evaluating their life and deciding to go for it. The kitchens are super busy- tons of people are pursuing their food business dreams. The layout of the market this year is so exciting: we have a DJ tent in the back, a cocktail truck, we have food trucks, and as the season has been going we've been adding to it each week. We do a live band in the front of the market and it's really vibrant and full.
"That being said, I think there's room for us to certainly increase the number of visitors coming to our market, that's our goal overall. We are approved for EBT and SNAP funding, we'd like to get folks to come from a wider area, we'd like to see more diverse clientele, and people really thinking they can come here and do their weekly grocery shopping here. I think we could add another farm to anchor it with fresh produce. I think we have room to easily double the number of people that come to our market each week, that's definitely the main thing we're working on. "
To learn more about Hope and Main check out their website at: https://makefoodyourbusiness.org/