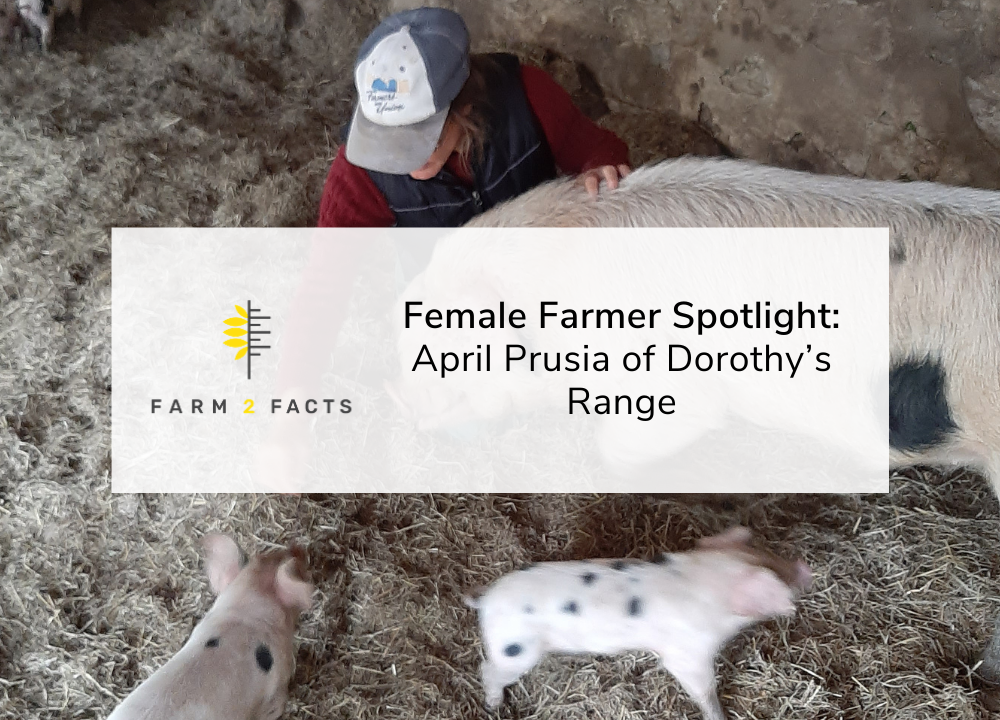 Meet April Prusia, owner of Dorothy's Range, a small scale, sustainable pork operation based in Blanchardville, WI. Dorothy's Range is a farrow to finish operation, which is where the pigs on her farm are born and die on the land. April works to preserve a heritage hog species as well as sell livestock and pork products.
April studied environmental science, policy, and ethics at Humboldt State University in California. She spoke of her experience in California as a time to learn both in and outside of the classroom, as the outdoor world in California is so vast. Upon returning to the Midwest, April worked at a small organic CSA vegetable farm in Madison for 10 years.
Food culture, traditions, labor rights, and land treatment are April's passions and they are all rooted in agriculture. These passions drove her to continue her pursuit of sustainable agriculture and have a stake in the conversation of America's food systems.
"Everything comes back to food!" April exclaims.
April opened her pork operation following years of working on vegetable farms. While she lived 10 years of her life as a vegetarian, April recognized that it was not the animals themselves that were harmful to our planet, but rather the large scale animal agriculture system and all of its accompaniments that were degrading the environment. April decided to change that with Dorothy's Range.
As a woman working in the agriculture industry, April spoke of her biggest challenge being the mental hurdle of allowing herself to value herself and her time.
"I always think: is it fair for me to charge this much?" April questioned before reassuring herself that yes, she should be honoring her work and making a profit. She explains that, "as women, we are taught by society to not ask for these things."
Beyond the mental hurdles society presents to women, there are physical ones April faces as well. She says that because of her physically small stature, she has to take a different approach in her role as the owner and operator of a pork operation. "I teach pigs manners," April half jokes, though I am not entirely sure how serious she was.
In April's experiences, women in agriculture find each other. "I couldn't ask for a better community," April says. April is part of a group called Soil Sisters Wisconsin, a group of women farmers in southeast Wisconsin organized around sustainable and local agriculture. A group of these women get together to share a potluck and tour each other's farms to network and learn from one another. April describes that "as women, we lift each other up!" Actively fostering a community has empowered these women in their professional as well as personal lives.
The most rewarding part of farming for April is developing her relationship with food and sharing that with others. "It is our whole world,", she says, She takes pride in what she fuels her body with and hopes to share that with others. At the small farmstay that Dorothy's Range operates, April consistently emphasizes education and sharing the knowledge of the farm. "We need more love," April exclaims. "Our food system needs more love, farming needs more love, people need to love food more." April is right; it all comes back to food, and ultimately, love.
Learn more about April's farm at http://www.dorothysgrange.com/
Animal agriculture system
April Prusia
Community
Dorothy's Range
Education
Empowered
Pork
Women