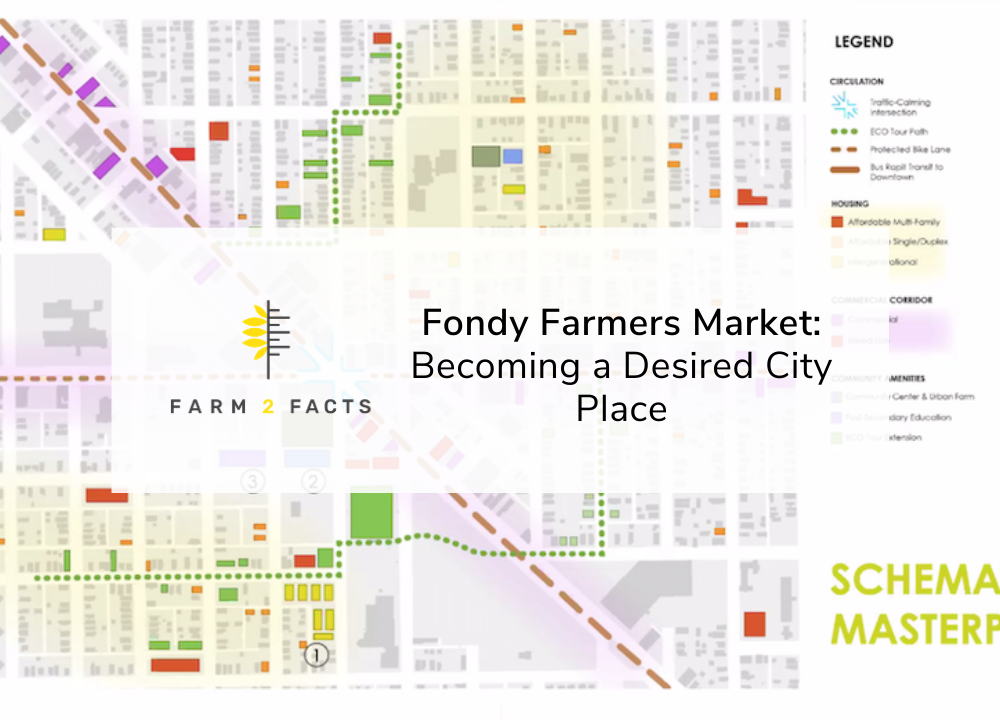 UW Madison's Department of Planning and Landscape Architecture recently partnered with the Fondy Farmers Market to explore the market's potential. With a goal of turning the farmers market location into a new, desired city place, the workshop will study the Fond Du Lac and North Area in Milwaukee, WI.
Through planning and design visioning, graduate and undergraduate landscape and planning students will establish design values, explore scenarios of potential future outcomes, and develop a preferred plan and design that meets their vision goals.
The subject matter is a live project for a historically underrepresented neighborhood in the city of Milwaukee, WI. The location of the project includes the historic Fondy Farmers Market, the recently established Fondy Park, vacant sites, historic fabric, a major transit corridor, and green infrastructure. The Workshop is made up of a combination of graduate planning and undergraduate landscape architecture students.
A key learning outcome for the students involved is the integration of community engagement through partnerships. Equitable Community Engagement is the practice of using multiple strategies to provide opportunities for all stakeholders – particularly those historically excluded, under-represented, or under-resourced – to be informed and to participate in public planning and decision-making to achieve an equitable outcome.
The COVID pandemic has changed the way that people can safely interact. While engaging with communities and larger populations during the current COVID-19 pandemic, it is important to understand the needs of specific groups who might experience barriers to accessing information and support or be at higher risk of exposure and secondary impacts. This includes children and adults with disabilities who make up an estimated 15% of the population that are yet excluded from consideration.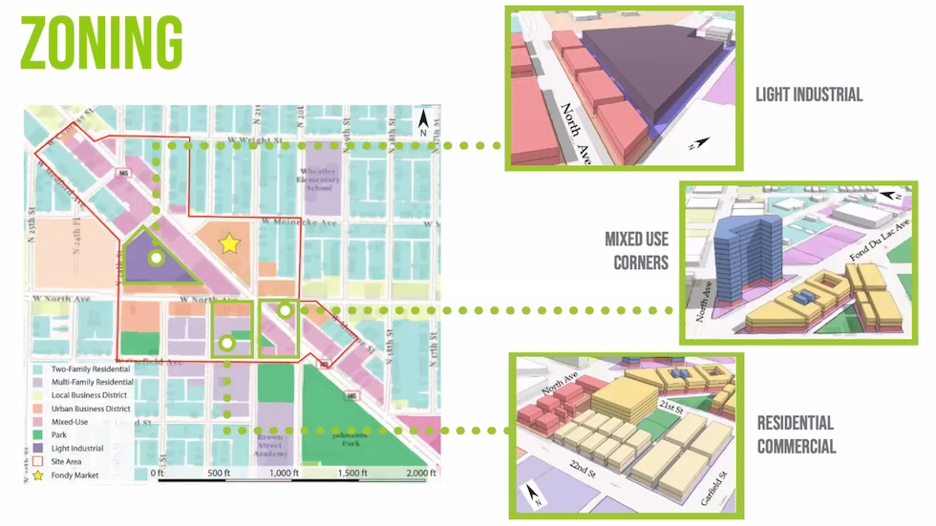 To address the challenges of engagement due to the COVID-19 pandemic, the Workshop has adapted in three ways.
1: Shifted to a predominately virtual teaching modality. This shift has impacted students' ability to collaborate in teams remotely. To address this challenge, the Workshop partnered with ESRI's Smart Cities team to integrate ArcGIS Urban as a platform to facilitate simultaneous collaboration. ArcGIS Urban offers students time saving tools by streamlining the creation and sharing of development scenarios that integrate zoning and land use plans. ArcGIS Urban has provided the Workshop the ability to collaborate simulating a real-world planning environment in the context the Fond du Lac and North Area of Milwaukee. The tool allows students the ability to visualize in real time what a change to the zoning code would mean for building forms and generate quick output of development metrics that facilitate quantifying impact.
2: Redefined the fieldwork methodology to ensure social distance guidelines were constantly enforced. The Workshop was able to travel to Milwaukee mid-September 2020 to carry out comprehensive site survey and fieldwork documentation and meet with community partners at the market. Everyone followed the COVID-19 safety protocol enforced by Fondy Farmers Market, which included social distancing and wearing facemasks at all time. Because of distancing, the documentation process relied heavily on windshield surveys and site observations.
3: Community engagement had to shift to digital platforms. Data collected from the fall of 2019 to summer 2020 by the City of Milwaukee Department of City Development and the Fondy Farmers Market had to replace the larger in person events such as public meetings and focus groups. Students had an opportunity to present their initial schematic designs in virtual public meeting to receive feedback from key stakeholders in early October 2020. Virtual evaluation and engagement from the public and professionals will allow students to approach city planning in a non-traditional classroom format while responding to the challenges brought on by the COVID-19 pandemic.
Building off the fieldwork and the community input, five interdisciplinary teams are working to meet their vision goals. Final visioning plans will be presented in a virtual forum in December 2020. Follow Farm 2 Facts on Facebook to stay up to date!

Community
COVID19
Engagement
Fondy Farmers Market
Partnerships
Zoning