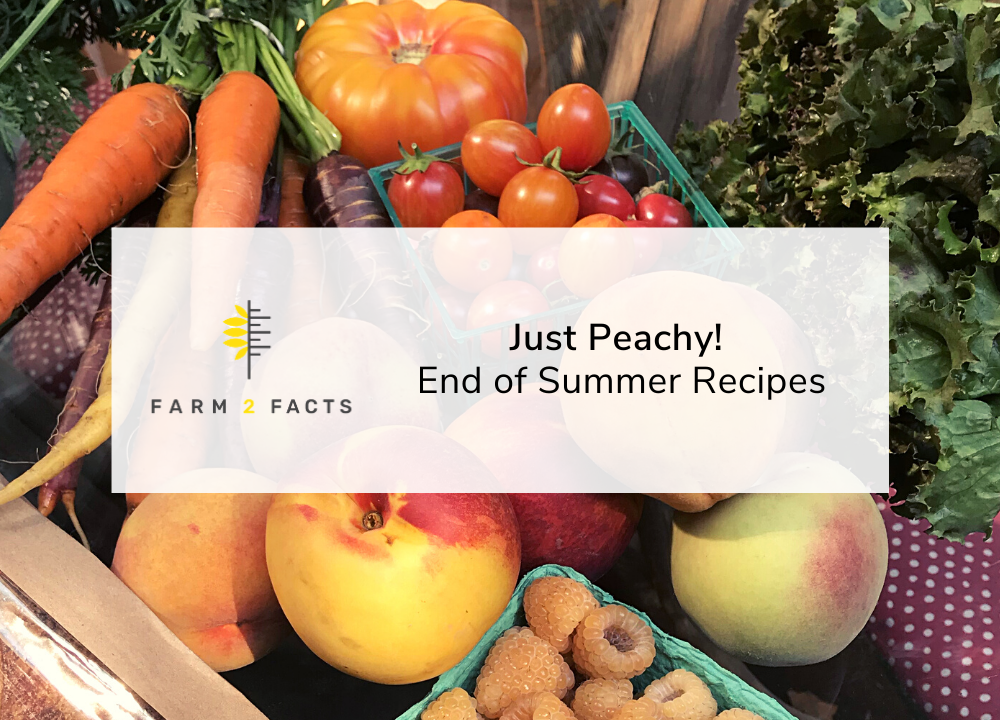 Celebrate the end of summer with an in-season meal made with ingredients from your local farmers market.
With the exception of a jalapeno from my garden in WI and goat cheese from the Jackson Hole Farmers Market, the majority of the ingredients in the following recipes were locally sourced from the Midtown Sacramento farmers market or roadside produce stands in northern California.
Peach Salsa
Ingredients:
3 medium, ripe peaches
1 medium tomato
½ red onion
½ red bell pepper
1 jalapeno
⅓ cup cilantro
Juice from 1 ½ lime
Salt and pepper to taste
Gently rub peaches with a damp towel to remove fuzz
Deseed and dice jalapeno
Dice peaches, tomato, onion, bell pepper and cilantro
Toss all the above into a medium sized bowl and add in lime juice, salt and pepper (adjust to taste)
Serve over fish (pictured with haddock) or with tortilla chips!
Corn and Zucchini Salad
Ingredients:
4 ears of corn
2 medium zucchinis
¼ cup fresh basil
¼ cup fresh parsley
⅓ cup olive oil
¼ cup white wine vinegar
4 ounces feta cheese
Salt and pepper to taste
Cook corn in a large pot of boiling salted water until corn is bright yellow and tender, about 3 to 5 minutes
Drain water and let cool (*Optional: Cook the corn the night before and chill in the refrigerator)
Slice kernels from the cobs in small strips, not single kernels
Cut and slice zucchini into thin, half moons
Finely chop basil and parsley
Place all the above plus the oil and vinegar in a large bowl
Season to taste and top with feta!
Melon Salad
Salad Ingredients:
6 cups greens of choice
4 slices of prosciutto
¼ cup red onion
2 cups crenshaw melon (or any melon in season)
4 ounces goat cheese
Dressing Ingredients:
1½ tbsp honey
1 tbsp apple-cider vinegar
1/4 cup extra-virgin olive oil
Salt and pepper to taste
Combine all dressing ingredients
Toss greens in dressing and top with goat cheese, onion slices, melon and prosciutto.
Peach and Raspberry Puff Pastry
Ingredients:
3 ripe peaches
A handful of raspberries
1 sheet of puff pastry
1 egg
1 tsp cornstarch
¼ cup granulated sugar
¼ tsp salt
¼ tsp cinnamon
1 tsp cornstarch
Glaze:
1 cup confectioners' sugar
1 tsp of vanilla extract
2 tbsp heavy cream
Remove puff pastry from the freezer and let thaw for 20 minutes, or until it can be unfolded without cracking
Preheat oven to 400°F
Peel peaches and thinly slice before placing them in a large mixing bowl
Combine the sugar, salt, cinnamon, and cornstarch and sprinkle mixture over the peaches
Gently toss peaches with sugar mixture so that all peaches are covered
In a small bowl, combine the egg and water and whisk until combined
Gently unfold the puff pastry on top of parchment paper (or tin foil)
Place puff pastry and parchment paper on a baking sheet
Create three tightly placed rows of peaches on the puff pastry, leaving about a 1 inch border around the edge
Evenly drop raspberries on top of peach rows
Brush outer edges of pastry with the egg wash
Bake for 17-19 minutes or until the crust is puffy and golden brown
While the tart bakes, mix the glaze. In a small bowl, combine the confectioners' sugar, vanilla, and cream
Whisk until creamy, add more cream if too thick
Remove pastry from oven and let cool for 3 minutes
Drizzle glaze over the pastry and serve with a scoop of vanilla ice cream!
All recipes serve 4+, ENJOY!!
Dessert
Fresh
Recipes
Salad
Salsa