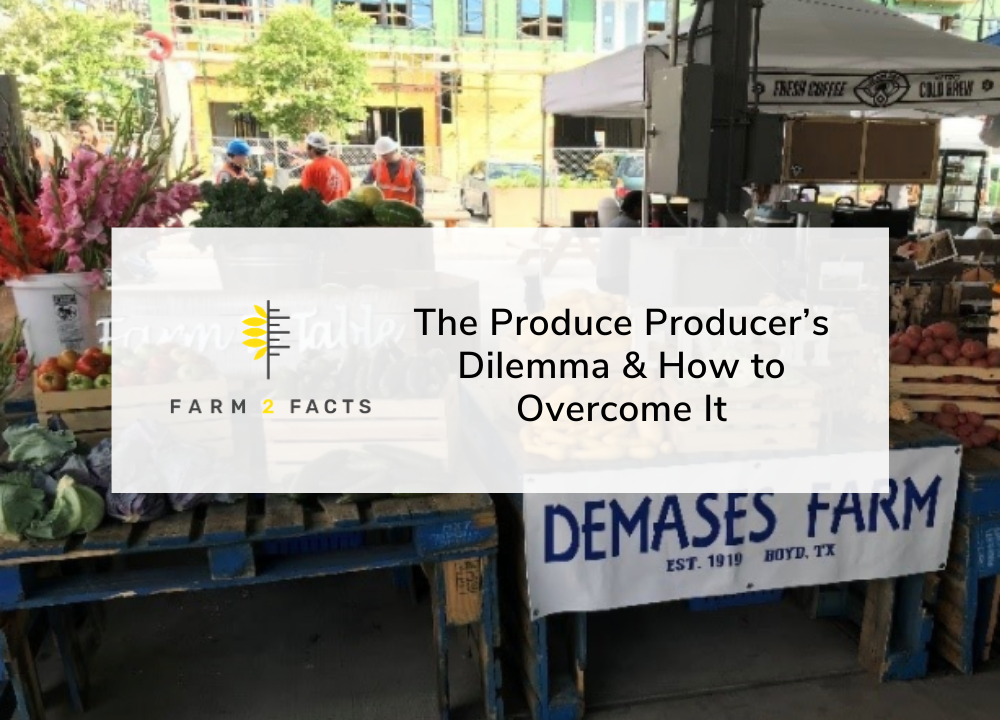 Addie Stone, who studied agribusiness at Clemson University, interned for the Dallas Farmers Market (DFM) in the summer of 2018. Addie enjoyed going on farm visits where she got to pet cows and pick watermelons, delivering fresh produce to chefs around downtown, and getting to know the farmers and vendors that came to the market each weekend. However, in becoming acquainted with the farmers, Addie and the other market employees came to know the produce producer's dilemma. The following is what Addie wrote about this dilemma.
At a well-established market with typically middle to upper class customers, the produce doesn't sell as well as one would expect. Why would these people who live 20 to 30 minutes away trek all the way to the middle of downtown Dallas, walk past beautiful produce and the wonderful people that grew it, and only purchase a few dollars' worth, if any? This question was the problem of the summer. Here are a few theories that we adopted and possible solutions for vendors experiencing this dilemma:
Plenty of people come to the market for more of an experience than a grocery trip. They arrive in cute clothes to take pictures with chalk art signs, a farmer's giant trailer of watermelons, and the bouquets they buy from the flower farm. They rarely leave with fruits, vegetables, meat, or eggs because that was never their intention for visiting the market. We want to attract as much foot traffic as possible, but of course, the farmers would hope that with increased foot traffic, their sales would also increase.
To use this social media trend in our farmers' favor, we encouraged them to take the time to make their booths and their produce eye-catching.
We would assist them in creating displays that had multiple dimensions, multiple colors, and looked abundant. A great way to accomplish an "insta-worthy" booth is to grab some wooden crates from your farm and some cute signs from a craft store, stuff it with a burlap sack or newspapers, and place your produce on top or in front of it. The items from the display that we created in the picture didn't cost more than $50, and they helped significantly increase the farm's sales at the market. If you can entice the picture-takers over to your booth with an attractive display, then you've taken one of the biggest steps in making a sale.

Our best idea for overcoming the grocery store bias was collaborating with the vendors to make sure the market had a wide variety of produce and goods available. While it is hard to compete with supermarket convenience on your own, if the vendor and their market can work together to recruit vendors with complementary products, it will be a win-win for everybody! If someone goes to a market and there are five beekeepers selling honey, none of the vendors will make much; however, if one person sells honey, one sells watermelon and cantaloupe, one sells lettuce greens and cabbage, one sells potatoes and beets, and the fifth sells natural bath products, then they will attract a much larger customer base and each have better sales. Farmers markets benefit from variety, so working together to attract new and diverse vendors will help improve everyone's outcomes.
Lastly, a third theory of why people don't purchase produce at the farmers market as much as we'd like is because fewer and fewer people learn how to cook. The current generation of young adults (the quintessential millennials), even with their obsession of Food Network shows and foodie blogs, don't know how to make many different meals. Plenty are comfortable with constantly going out to eat or bringing restaurants to them with apps like Favor and UberEats. You'll have a hard time convincing someone to purchase a fruit or vegetable if they have absolutely no idea what to do with it.
The surefire way to turn this situation around is to help your customers learn about your products! The Dallas Farmers Market made a coordinated effort to bring in local chefs for cooking demonstrations. These demonstrations helped the customers understand how they could use the produce for sale and also built potential wholesale relationships between farmers and chefs.
If your market doesn't have the infrastructure to host cooking demonstrations, you could also make a series of recipe cards that use your produce.
For example, many people have never eaten patty pan squash, but if you are able to provide them with a tasty recipe that shows how roasting patty pan is just like roasting other squash, the customer will be much less intimidated by a new food and more willing to give it a go.
We constantly brainstormed ways to overcome the produce producer's dilemma at the Dallas Farmers Market. Though this intriguing problem can be discouraging at first to new market vendors, the solutions provided here can go a long way in attracting and retaining loyal customers.

DFM
FarmersMarket
Millennials
ProduceProducer'sDilemma
Recipe