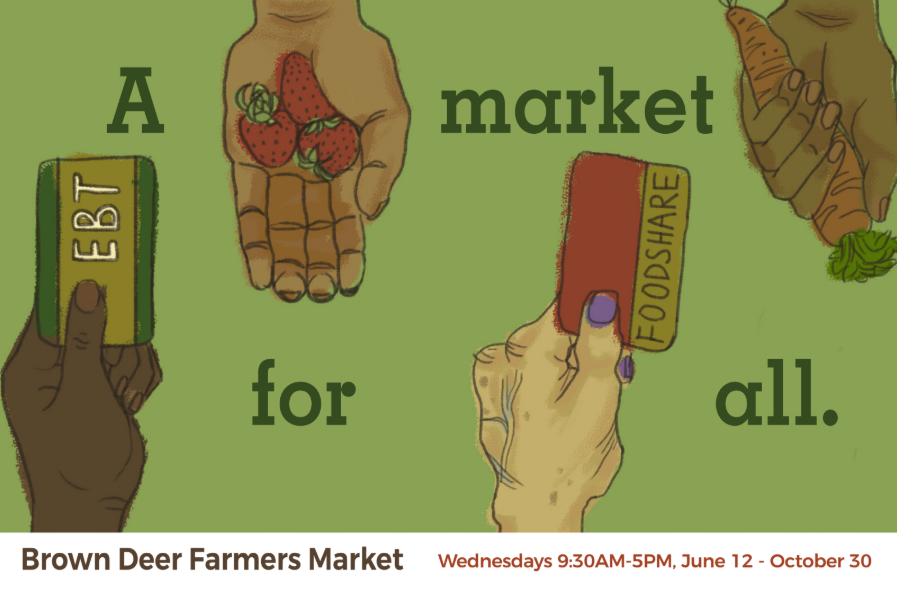 "Is my farmers market really for everyone??"
"What kinds of barriers stop people from getting fresh, healthy produce?"
As a market manager or someone who is passionate about local food, these questions have probably passed through your mind. Previous Farm 2 Facts team member Chloe Green sought to answer them, and her project is far from over.
In February of 2018, Chloe applied for a Wisconsin Idea Fellowship (WIF) through the Morgridge Center for Public Service. She named her project "A Farmers Market for All? A look into the true accessibility of farmers markets," and focused on studying access to markets across the state of Wisconsin, with a focus on low income communities and communities of color.
Over the summer of 2018, Green visited 16 farmers markets across Wisconsin and interviewed over 115 individuals and families. She found that people tend to more regularly participate in markets when they feel that they are truly welcomed – when it feels like a real community. On the market management end, it also seemed clear that while many managers and organizations wanted to do more outreach and offer more ways for market visitors to be able to redeem incentive programs such as the Supplemental Nutrition Assistance Program (SNAP) benefits, they did not have enough staff, time, or money to establish and continue these extra programs.
In September 2018, Chloe presented her findings to American Family Insurance, who proposed the idea of a pilot project that could be developed across Wisconsin and other states where AmFam operates. Green and the team at the University of Wisconsin – Madison worked together to develop a pilot "Model Market" program for Brown Deer Farmers Market in North Milwaukee. Brown Deer was picked for its racial diversity and relatively high low-income population.
The program included graphic designs and a marketing campaign custom-made for Brown Deer by our other team members, but also included a special Market Access Coordinator (MAC). Chloe picked the MAC directly from the Brown Deer community, so shoppers would see a friendly, familiar face greeting them. Working with the Brown Deer manager, the MAC spread the word about the Model Market program throughout the season, visiting places like daycares, senior homes, and low-income apartment buildings.
As the season went on, the goal of community started to take on a deeper meaning. People recognized the Model Market program as a force of good and began to show their support. Children's Community Health Plan gave the market unlimited matching funds, so shoppers using SNAP benefits could buy as much as they wanted. FoodWIse did a photoshoot in Brown Deer Farmers Market, boosting the Model Market program's visibility. The program's marketing material won Farmers Market Coalition's 2019 national poster contest for the Best EBT/Nutrition Incentive category.
By the end of the pilot program, Brown Deer's SNAP sales rate had increased by over 700%! That means seven times the number of purchases where people who are low-income could access fresh, healthy produce.
The Farm 2 Facts team is not ready to end the experiment yet—in the coming years, we are trying to secure funding to extend Chloe's project to all the farmers markets in Milwaukee. For you and for us, the "A Market for All" is a valuable starting point in recognizing the necessity of structured outreach to community, and the support that you will receive back.

Community
FarmersMarket
MarketAccessibility
SNAP