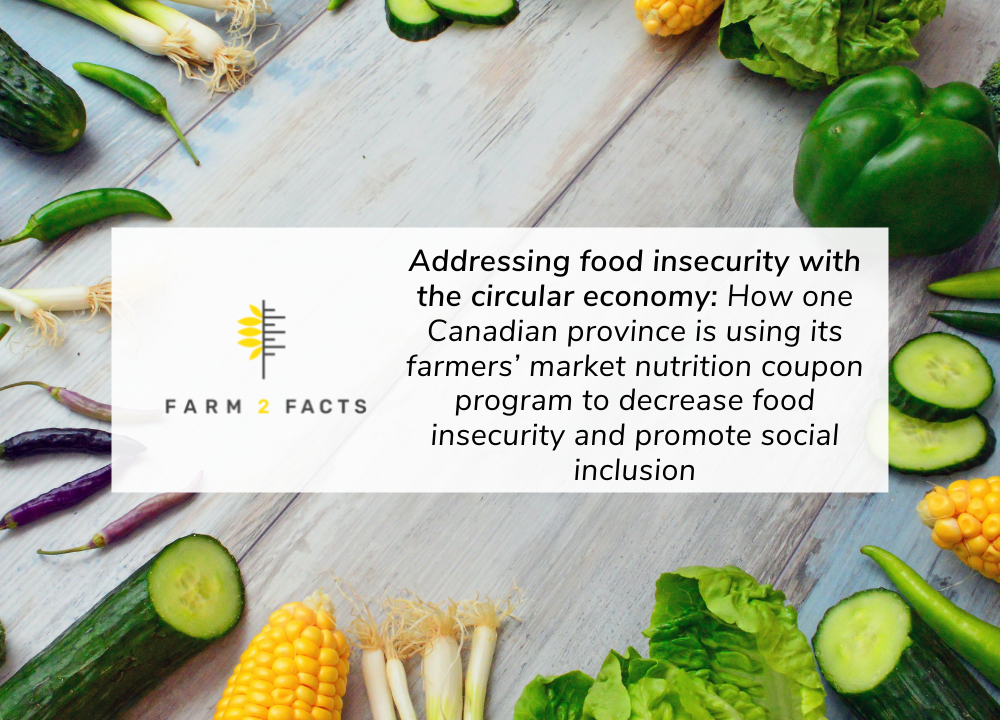 By Justin Cantafio, Executive Director, Farmers' Markets of Nova Scotia
Nova Scotia is a small maritime province of under a million people on the Atlantic coast of Canada. It only has one city of over 100,000 people, Halifax, whose regional municipality is home to almost half of the province's entire population. Most Nova Scotians outside of Halifax live rurally in villages and townships.
Nova Scotia is a unique province. It has the most craft breweries per capita and the most farmers' markets per capita in the country, multi-billion-dollar commercial fisheries, and a thriving agritourism sector. The port of Halifax is one of the deepest commercial harbours in the world and serves as the first major inbound and last major outbound sea gateway in North America. Yet Nova Scotia also has the highest provincial food insecurity rate and third highest provincial child poverty rate in Canada.
Farmers' Markets of Nova Scotia (FMNS) is Atlantic Canada's only farmers' market sector association. FMNS is structured as a non-profit cooperative made up of member farmers' markets. As of this writing, FMNS has over 40 member farmers' markets across the province, representing well over 1,500 unique owner-operated businesses. What do you do when you have the most farmers' markets per capita in the country along with the nation's highest levels of food insecurity? You mobilize.
In June 2021, FMNS launched year 3 of the Nourishing Communities Food Coupon Program. This province-wide program involves FMNS member farmers' markets and partner social organizations[1] working together to address issues of food insecurity for low-income Nova Scotians while supporting local producers and farmers. The program allows project participants to use an anonymous alternative currency—or "food bucks"—that can be redeemed at any vendor stall at participating markets.
This year, FMNS member farmers' markets provided weekly food bucks allotments to well over 400 low-income households across Nova Scotia. FMNS expanded this project from 6 participating farmers' markets and over 100 households in 2019, to 13 farmers' markets and over 200 households in 2020, despite the pandemic. In 2021, over $250,000 in "food bucks" are ready for circulation this year at more than 25 FMNS member farmers' markets across the province.
Programs like these are not unique in North America. FMNS has long worked with partner organizations in the US and Canada to learn how to best create a province-wide program. In the US, all 50 states allow for individuals to use their Supplemental Nutrition Assistance Program (SNAP) dollars at farmers' markets, allowing the SNAP program to not only assist low-income Americans to purchase food, but to also support farmers and farmers' markets. British Columbia's nutrition coupon program has been steadily funded and growing since the mid-2000s, and now reaches over 15,000 families in over 75 communities.
FMNS worked closely with organizations to build the program to uniquely serve Nova Scotians, with a focus on the social wellbeing and anonymity of our program participants. FMNS asks one member per household to fill out pre- and post-program surveys to help us learn how to continuously improve the program, and the attention to detail is paying off. In 2020, some exciting things about the program were learned:
· Over 85% of all redeemed coupons were spent on food, with almost a third of all coupons being spent on fruits and vegetables.
· 92% of participants said they felt a greater sense of belonging in their community thanks to this program, and over 43% of participants said they made at least one new friend, despite the pandemic.
· 94% of participants said that this program allowed them to have more money for their non-food core needs, and 56% said they spent additional funds at their farmers' markets above and beyond their nutrition coupons.
While the program does not directly address the core causes of food insecurity, it does offer an opportunity to promote social inclusion while directly addressing some of the symptoms of food insecurity. What makes it a win-win situation is that FMNS is also bringing in more dollars for local producers and expanding the customer base while building community across the province.
We're looking forward to continuing to learn as it grows this program, which is now permanently funded by the Province of Nova Scotia. The hope is that the program's success lays the groundwork for other successful programs across North America.
Because farmers' markets, at their core, are public markets. And public markets are as old as civilization itself. They represent a fundamental human tendency to come together, share goods and services, and build community. There's a tremendous opportunity, especially in this day and age, to continue exploring how we can optimize the positive social and economic impact from the tremendous resources that are our farmers' markets.
To learn more about Farmers' Markets of Nova Scotia's program and to view the full 2020 report, please click here.
---
[1] Partner social organizations include registered charities, societies, and non-profit organizations that work directly with individuals and/or households who may be experiencing food insecurity. Examples include organizations offering support services for individuals who identify as BIPOC, women's centres, food banks, shelters, family resource centres, and organizations offering services for new Canadians and immigrants.