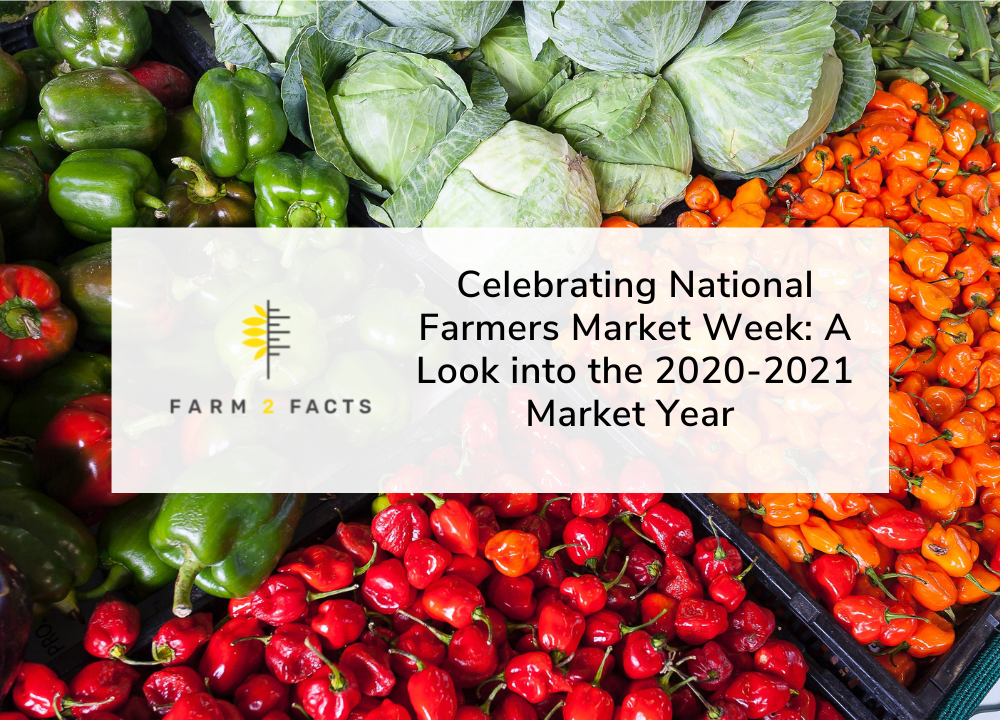 This week, Farm2Facts is celebrating National Farmers Market Week in a number of ways. While the 2020-2021 market season has been a challenging one, farmers markets across the country have given us many great reasons to celebrate and reflect. Markets have been required to grow and adapt to the ever-changing circumstances of the pandemic; curbside delivery, food program distribution, and various electronic payment methods have been implemented throughout markets to overcome the barriers of the COVID-19 pandemic.
This year, one of the most prominent themes to shine through is community. Market members sought to care for one another by taking preventative measures to inhibit the spread of germs and limit face-to-face contact. Countless vendors participated in workshops that educated them on the importance of personal protective equipment (e.g., masks, gloves, and sealed containers) to help keep others safe. PPE was incorporated within markets, seemingly becoming a part of the culture and a symbol of selflessness. It was due to these efforts that some markets were able to continue to operate.
As the summer has progressed we have seen more and more markets begin to conduct business as usual. While we understand the pandemic continues, it is comforting to know many of the protective strategies created last year persist. These measures have played a large role in fighting food insecurity, an issue perpetuated by the effects of COVID, and keeping communities fed. With many losing their jobs at the start of the pandemic, income became scarce and acquiring viable food options was uncertain for many families. Programs such as Nourish our Neighbors utilized their local farmers markets, a central point for many communities, as a meeting place for those in need of assistance. Healthy, balanced food was distributed by local volunteers and provided aid to community members across the country.
While looking ahead into the future, it is vital to remember the impact markets and growers have on our local economies. Supporting local farmers markets has the potential to create jobs, and promote healthy living. A study conducted by the University of California-Davis found that each dollar made by direct marketers generated twice as much economic activity within a region than indirect marketing producers. Additionally, the 2019 market year documented fruits and vegetables as the most popular commodities being sold in 99.6 percent of markets. These communal benefits account for the upward trajectory of market popularity in the years to come.
As our country continues to work towards a pandemic-free future, we hope that in the coming years, as communities work past the damage caused by the pandemic, the lessons learned of community and togetherness remain for years to come. Farm 2 Facts hopes that our members can celebrate National Farmers Market Week at their local markets.