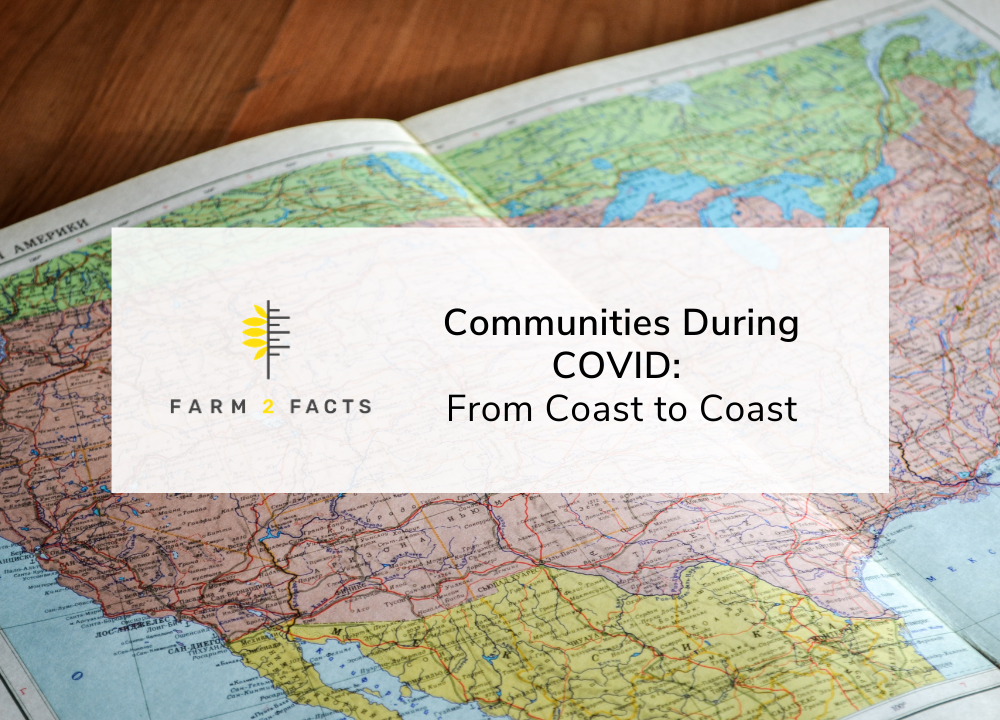 As like everything and everyone else, Farmers Markets have had to adjust their ways of operating during 2020. We were curious in what ways our Farm 2 Facts members on the West Coast (ACE Farmers Markets) functioned during this year in comparison to our East Coast (Hope & Main) market members. Here's an inside look into how our members have dealt with the adjustments that have come with this year.
West Coast
This past year, Kelly Smith, the market organization manager of ACE Farmers Markets in the Bay Area of California kept her markets running, and even expanding, just with new safety precautions in place.
In the beginning of the pandemic, when shutdowns were happening left and right, Farmers Markets joined efforts and collectively wrote letters to the governor of California requesting that he designated Farmers Markets essential.
Once markets were deemed essential and the initial COVID shutdown was over, Kelly and FM LITE (a group of 3 other market organizers and supporting agencies) invited local health officials to join their monthly meeting. During these meetings, both Kelly and the local health officials worked on creating best practices for market organizers with the visiting public, vendors, and staff in mind. These meetings still occur as COVID precautions and restrictions continue to change.
The precautionary measures were put into action and ACE Farmers Markets started to open back up again. In order to keep everyone safe, Kelly scaled back the amount of vendors and only allowed farmers and packaged food vendors at the markets. Out of her 10 locations, only 8 began operating as the officials within those governances saw the importance of local foods. One of the locations that did not operate had to relocate off of county property to a privately owned location due to COVID closure. The other remains closed for the year because it has insufficient space to properly social distance. Kelly is working on ways to bring this last market back for the 2021 season as the community misses attending it.
Recently, the city of Santa Rosa's Economic Development Department engaged Kelly and her team in a new market located in a pocket of need in southwest Santa Rosa. The city sees this market as a way to help the local community in a multi-prong approach; providing healthy foods, creating small local businesses and creating a social setting at a neglected property.
East Coast
In other cases, farmers markets were not only trying to take precautionary measures against COVID-19, but also actively trying to solve the resulting instability in vulnerable populations.
Hope & Main (H&M), a kitchen incubator and food hub in Rhode Island, stepped up to stopgap food security issues during the COVID-19 shutdown. Although H&M was created for the purpose of helping local food businesses get off the ground and didn't have prior experience with distributing meals, their team was eager to engage in this effort to help their community.
H&M coordinated with the Bristol-Warren School District to distribute school meals at their farmers market, the Schoolyard Market. The market manager, Caitlin, recognized the demands for meals in addition to the school-provided meals. The children were being fed—but what about the rest of their family? In consideration of this need, Hope & Main worked with their incubated food businesses to begin preparing and distributing meals during the market. Anybody who needed it could pick up the meals—no registration or identification required.
The meals made by Hope & Main members were a far cry from the frozen mozzarella sticks and baby carrots offered by school cafeterias. A family in need could pick up high quality meals, like harissa chicken over cous-cous, on market nights. These meals were consciously made with fresh ingredients by local producers. Ali, the marketing director from H&M, said they wanted to "show people you deserve real food. You're just as human as I am… you deserve food equity." In fact, the meals were so attractive that H&M created a "Buy One Give One" program, so that families could buy the prepared meals and in turn fund meals for a neighbor in need.
The program offered by H&M concluded on Schoolyard Market's last day of the season, but H&M is still seeking ways to continue this program in the future. To learn more, visit their website!
It's times like these where we have to find the silver lining in things; the organizations featured in this blog have done just that and stepped up in a time of need. Shout out to you, Kelly and Caitlin for recognizing your communities' needs and filling the gaps.
Do you know someone who has gone the extra mile to make a difference during this pandemic? Or manage a market that makes a difference? We'd love to hear from you!
Contact us at info@farm2facts.org to share your story.
COVID
East Coast
Essential
Hope & Main
Pandemic
Precautionary Measures
West Coast