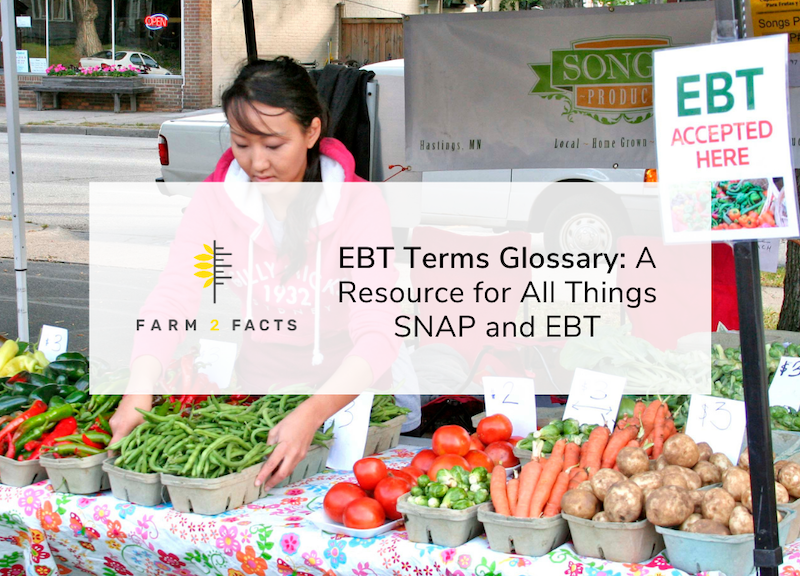 SNAP, or the Supplemental Nutrition Assistance Program, is a program which helps low-income individuals purchase eligible food items including fresh, local produce from farmers markets. The COVID-19 pandemic has increased food insecurity and made it harder for many people to access fresh foods, especially those who may have lost their jobs. These economic effects have only further stressed the importance of markets staying accessible and providing fresh produce to as many people as possible. Part of increasing market accessibility is eliminating any confusion behind programs such as SNAP and EBT so that as many eligible individuals as possible can enroll and receive the benefits.
Looking for a resource to share with those curious about how SNAP and EBT run, or have a term related to SNAP/EBT that you are confused about? There are multiple great resources that provide market goers and SNAP recipients with detailed explanations of the workings of both SNAP and EBT. However, these resources are a bit difficult to navigate for those looking for quick explanations.
Working with FoodWIse UW-Madison, our team has compiled a glossary which defines and explains the most commonly used SNAP and EBT terms. This glossary can be used as a "cheat sheet" for anyone looking for a brief summary of a term, a list of SNAP eligible items, or definitions of different market programs such as market match or fruit and vegetable prescription programs.
To download the full glossary, click the button below!

Subscribe to our mailing list here to receive more information like this in the future.

COVID
COVID19
EBT
FoodWIse
SNAP