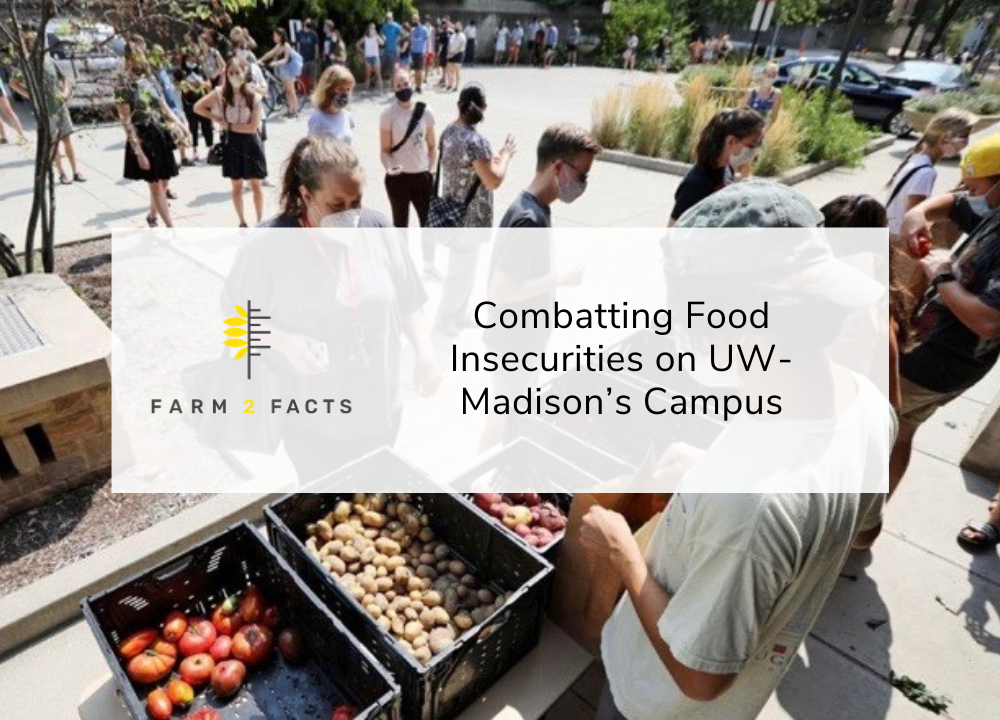 UW-Madison student organization F.H.King combats food insecurity on campus by giving away fresh produce once a week during the harvest season at their Harvest Handouts. They grow this produce at a plot in a community garden near campus just a couple miles from the handout. Cooper Hamilton, the F.H.King outreach director, said that the main goals of the club are to promote sustainable agriculture and to get "free, fresh produce directly to students."
For the handouts, F.H.King begins harvesting around 8 or 9 a.m. and "it's in people's bags by noon". Anyone walking by can get some free produce- not just students. They set up a table and this season, by the time they start handing out the produce, the line goes all the way down the block! At their largest handout, they gave produce to about 200 people. Cooper believes that for some of them the handout was their only access to fresh produce that week.
According to Cooper, one of the reasons that organizations like F.H.King are so important is that there aren't any truly affordable and convenient grocery stores that are accessible to UW-Madison students without a car. Additionally, he said, "Covid-19 has thrown a wrench into food insecurity on campus."
Dining halls are closed this semester for students who don't live in residence halls, making the options for fresh food near campus for students with a tight budget even more limited. Another problem is that new students, particularly low income students, are not informed of food justice organizations such as F.H.King as well Slow Food, Open Seat and the Food Recovery Network on campus which are meant to help them, so they don't have access to these resources.
Cooper explains, "You kind of have to be in the inner circle to know about these programs that provide free or inexpensive food."
Cooper says access to fresh produce is important for students because it can transition people's eating habits away from processed foods and lead them to eat healthier, fresh foods later in life. Furthermore, growing foods locally is important because producing and selling food locally minimizes pollution. A large contributing factor to pollution is transportation in the food industry since most food in grocery stores is shipped in from all over the world. Getting food from local farms and farmer's markets is a great way to help the environment.
Because of organizations like F.H.King, college students are getting the opportunity to enjoy and get in the habit of buying and cooking with fresh produce. Who knows, the students receiving produce at a harvest hand outs today might be your farmers market's next customers!
College Students
CommunityGardens
COVID19
F.H.King
Food
Students
UWMadison