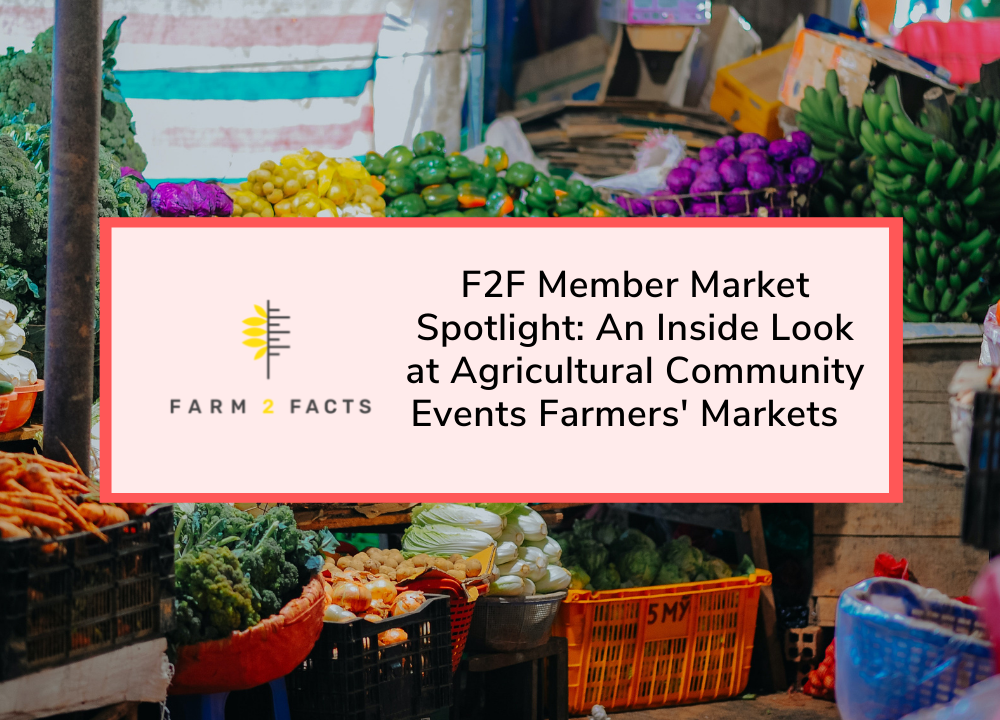 In our first F2F Member Market Spotlight, we are highlighting Agricultural Community Events Farmers' Markets (ACE). ACE Farmers' Markets is a small organization that operates 10 farmers markets between two counties in Northern California. ACE Farmers' Markets is a (501c5) non-profit that supports local agriculture. ACE Farmers' Markets provides vendors with the platform and the support to help their small businesses reach a consumer at a low cost.
Key highlights from market manager Kelly Smith:
What motivated you to start your market/business?
"I was a vendor for about 13 years before I started the farmers market. I actually met my husband at the farmers market I was working at the time. At one point, there was a shift within the organization that I was working for at the time, and it became difficult to get the space that was needed for our farmers market"
"We really worked from our hearts and that snowballed over time"
"Each year we took on another farmers market and now we are at 10 farmers markets"
"The core piece is the love for the industry and having a place for the vendors to sell and do their business"
When talking about her journey she shared that she actually started out as a vendor making soaps! This background proved to be really useful to her as her career progressed.
"That background provided the background of understanding of what it's like to be at a farmers market and what it takes to be successful. I can offer insight and mentorship to the vendors at the market, especially the new vendors because many people come in thinking they are going to make a lot of money. You do become rich but in other ways than don't involve money. It's an industry that is more about passion than money. The passion is what drives it."
What is the most rewarding part of your job?
"A lot of it is working with small businesses and the farmers. During COVID, we started a curve-side business, and we have tried to sustain it. I'm finding that some people, like those with mobility issues, are utilizing it, and people who are parents of young children.
Meeting the customers at a different level and shopping with them has been hugely rewarding. I also meet the vendors at a different level because I am becoming a customer. It gives me a different outlook on seasonality and what people shop for, and all the differences in how we shop. Some other organizations were handing out a box full of items, and people just got what they got, but this program gave people a more unique experience, and I love that part. It is more in the moment than some of my other work."
What is the hardest part about your role/any challenges you faced along the way?
"Planning and taking on a lot. Going from a vendor to an organizer, you become sort of like a mom, but also the person people blame. I used to get hurt, but now it's not as bad. I have learned to not take things personally and accept that some things are out of my control."
What do you wish the customers knew?
"I wish the customers knew that there are organizations behind the farmers markets. I wish people knew that there are a lot of regulations that take place behind the scenes. It's great when the customers don't realize it because it means we are doing a smooth job, but there are many moving parts, and we are all trying our best."
How do you wish to see your market grow in the future?
"We are constantly growing, and COVID has only helped it grow. I hope that post COVID we can hold on to the understanding of how precious our food system is, and how quickly unsustainable it can be, and how important our local farmers are. Our local farmers' markets are an important part of our history and future. As things start to open back up and people can travel again, we are seeing that people are drifting away again."
"We also hope to teach different groups of people about the price of food and why things cost differently than it does in the grocery stores. I would love to find a way to get more low-income customers involved"
Kelly fell in love with the industry while working as a vendor, and she and her husband eventually founded their own farmers' market organization. Kelly values local food systems and wants to support local vendors. Being a market manager comes with many responsibilities and obstacles, but it also has rewards along the road to keep you motivated. Kelly aspires to broaden knowledge and reach out to people of many cultures and socioeconomic backgrounds. Farm 2 Facts is appreciative of all the hardworking market managers, such as Kelly, who work hard to provide healthy food to the community and preserve local food systems.
Watch these videos to learn more about ACE Farmers' Markets:
 Market Match program
Meet the Farmer by ACE Farmers' Markets
To learn more about Agricultural Community Events Farmers' Markets, click here: http://ilovefarmersmarkets.org/index.html