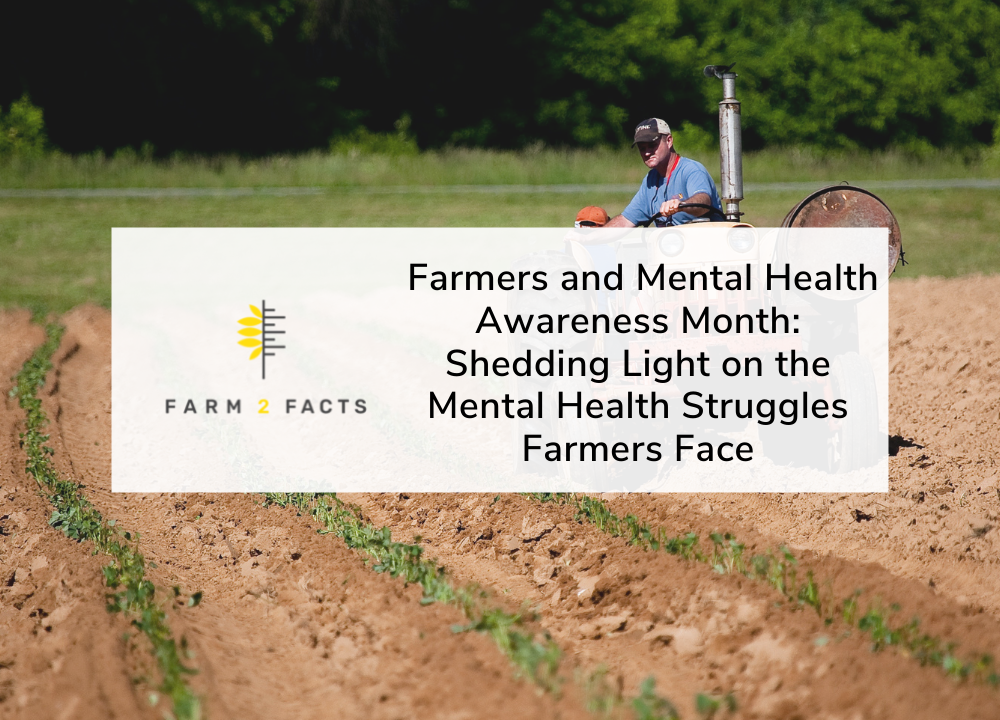 May 2022 is National Mental Health Awareness Month. In honor of Mental Health Awareness Month, Farm 2 Facts would like to discuss the mental health issues that impact farmers.
Farmers play a vital role in our communities. Thanks to farmers, we have access to nutritious food. However, some people are unaware that farming is a very stressful occupation. Farming is a physically demanding, emotionally taxing, and economically challenging occupation. Farmers work really hard to maintain their crops daily. Yet, many factors, such as weather and prices, are beyond the control of farmers. A farmer may work very hard all season, only to have a bad weather event destroy it all. This kind of situation will worsen over time as the climate crisis worsens. Isolation, labor shortages, rising farm debt, and falling commodity prices are other stressors that can negatively impact a farmer's mental health.
Some farmers also experience identity-related stressors. Farmers of color, for example, may face race-related stressors such as discrimination. Another example is that women farmers may face additional challenges in managing their farming responsibilities while caring for their children.
Currently, agriculture is among the top five industries with the highest suicide incidence rate among workers, according to the Centers for Disease Control and Prevention (CDC). The COVID-19 pandemic also worsened the mental health of farmers. According to the 2020 American Farm Bureau Federation, two in three farmers/farmworkers (66%) say the COVID-19 pandemic impacted their mental health. As issues such as inflation continue to develop in 2022, farmers will require support to endure difficult times.
Below are some resources that may be helpful to farmers experiencing difficult times.