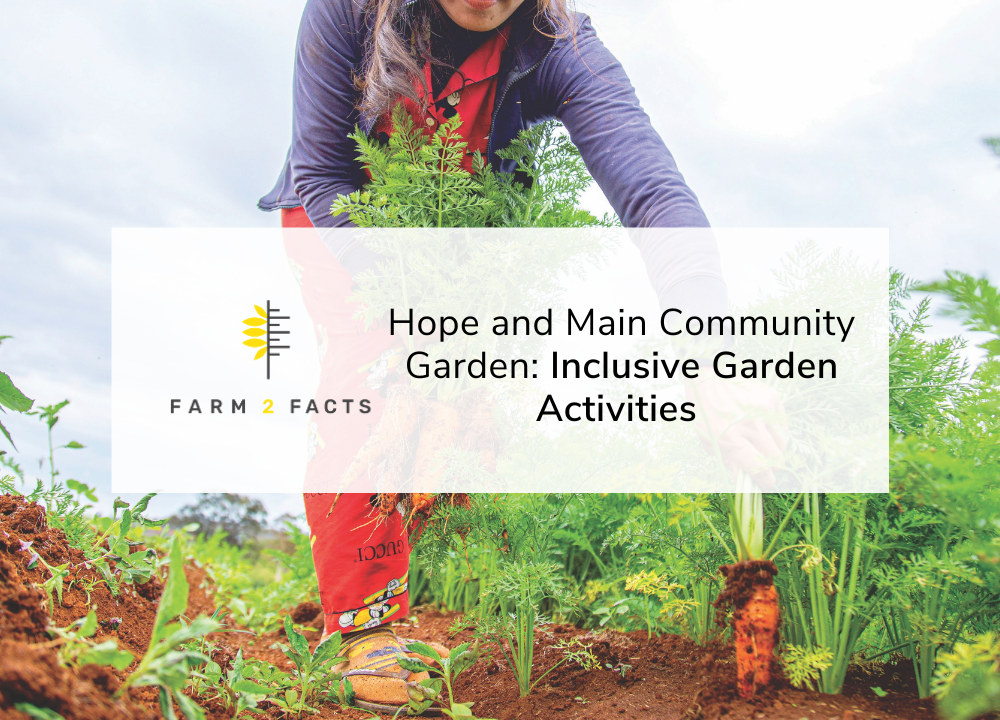 Hope and Main, located in Warren, Rhode Island, is a culinary incubator providing space and instruction for individuals starting their businesses. Hope and Main strives to create a community of entrepreneurs by empowering local food businesses to be sustainable, resilient, and beneficial to the local economy. In addition to supporting local entrepreneurs, Hope and Main organizes a weekly farmers market, runs a community garden, and hosts community events.
The Hope and Main community garden has fresh produce such as vegetables, herbs, fruit, and an array of flowers including sunflowers and echinacea. The garden is tended by a master gardener and in addition to providing produce is used as a gathering space during Wednesday night farmers markets. In the hope of increasing community engagement and gardening knowledge, with Farm2Facts' assistance, Hope and Main seeks to design volunteer-led activities that do not require an in-depth gardening background.
To achieve this goal, we will outline some interactive garden activities These programs utilize the garden as a conduit to build community and build interweaving braids of knowledge amongst visitors. Additionally, the programs will allow visitors to form connections and collaborate with each other and with local businesses.
While there is a growing awareness of the myriad benefits individuals of all ages gain from interacting with their outdoor environment, not all individuals have equal access to those spaces. The intersection of race, gender, sexuality, socioeconomic class, national origin, physical and mental ability, etc. plays a strong role in determining access to the outdoors and fresh produce. Through these activities, the garden space will connect to the themes of food security, social justice in order to foster respect and kindness amongst all age groups, cultural, particularly Indigenous, knowledge, and understanding of our natural environment
I. Activities
The goal is to develop accessible and interactive educational activities centered around the garden. These activities include:
A Scavenger Hunt: This activity involves interactive exploration of the garden and requires participants to locate and identify products and flowers. This activity is tailored to children.
A Tour of the Produce/ Flowers: This activity, facilitated by an experienced gardener, provides information on the produce and/or flowers grown in the garden. Participants will leave with concrete knowledge of the produce and tips on how to start their own garden. This activity is tailored to adults.
Grow/Make Your Own Herbal Tea: This activity, provided as an at-home guide and facilitated in the garden by a volunteer, involves harvesting fresh herbs and making them into a tea.
Three Sisters Story and Coloring Sheet: This activity is to be facilitated by a volunteer, beginning with the Wampanoag creation story and leading into the Three Sisters story. Participants learn that the heart of gardening is a celebration of growth cycles and nurturing, and leave reminded of their inter-relatedness to seed, dirt, pollen, water, and all things striving for survival.
These activities foster an inclusive environment by appealing to multiple ages, translating the activities into different languages, including local indigenous histories, and highlighting native plants, ultimately bringing the community together across barriers.