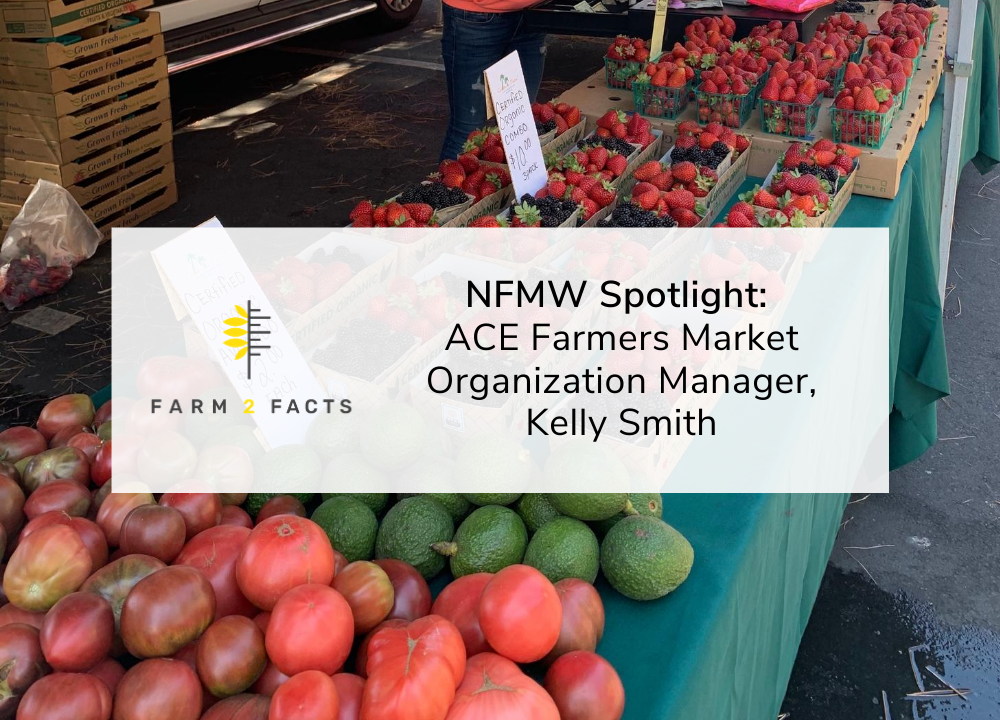 Farmers market managers are talented individuals who play multiple roles and spin a variety of different plates just to keep their markets functioning.
In honor of National Farmers Market Week, we wanted to give everyone a glimpse into the life of a market manager by interviewing one of Farm 2 Fact's members, Kelly Smith of Agricultural Community Events Farmers Markets, managing 10 markets in Sonoma and Marin counties in California. Enjoy the Q&A!
How do you find that your work as a FM organization manager integrates into your personal life?
Recently I read a quote "Have a life that you do not need a vacation from." I have that life. I work and live with my significant other and our office is in our home. We both really love the farmers' market lifestyle and in turn, have raised my stepson in the farmers' market environment over the past 10+ years that we have been operating markets in Sonoma and Marin Counties. Our coworkers, vendors and customers have become our extended family. I feel blessed each and every day to have such an amazing work environment.
How have you helped keep the community alive at your farmers markets during these times?
This has definitely been a challenging time to bring the community together while 6' apart. The great thing about the pandemic is that it has really put a light on our local food system and brought more people to source their food at their local farmers' market.
How do the different markets that are part of the organization experiment with different ideas or use similar ideas?
What partnerships or projects have you been involved with as a market manager and what has been the most successful?
One week into the pandemic, on March 24th, we initiated Curbside Pickup. It was nothing more than a google sheet that could be viewed by customers and edited by the vendors. Paypal invoices were sent to the customers. Myself and a volunteer would shop the market for the customers. It has evolved into an online system where we service approximately 40 to 60 customers a week.
Long term partnerships are with other farmers market managers, county health and food justice nonprofits in the region to offer an incentive program that gives SNAP customers $1 for $1 match for fruits and vegetables. The group is called FM L.I.F.E and serves Sonoma and Marin Counties in Northern California. Collectively, we are able to advertise the program and share best practices. It has been really rewarding.
What have you learned from being a market manager?
Being a market operator has stretched me out of my comfort zone, and I often say the job chose me. I've learned so much and discovered how to learn and adapt quickly. I started coming to market with my handmade soap and lotions in 1998… little did I know how that time as a vendor would shape my ability to be a caring market manager. I am filled with empathy for the vendors. There is so much work, planning, dedication that the customer never sees in order for the vendors to bring their products to market. Having been in their shoes, I know how a bad day can be at market and how a good day can be at market as a vendor. Each day brings new challenges to work with but that is what keeps the job interesting.
Interested in sharing your experiences and being featured on our blog? Send us an email at info@farm2facts.org. We love hearing from you!
COVID
FM L.I.F.E
Marin County
Market Managing
National Farmers Market Week
SNAP
Sonoma County