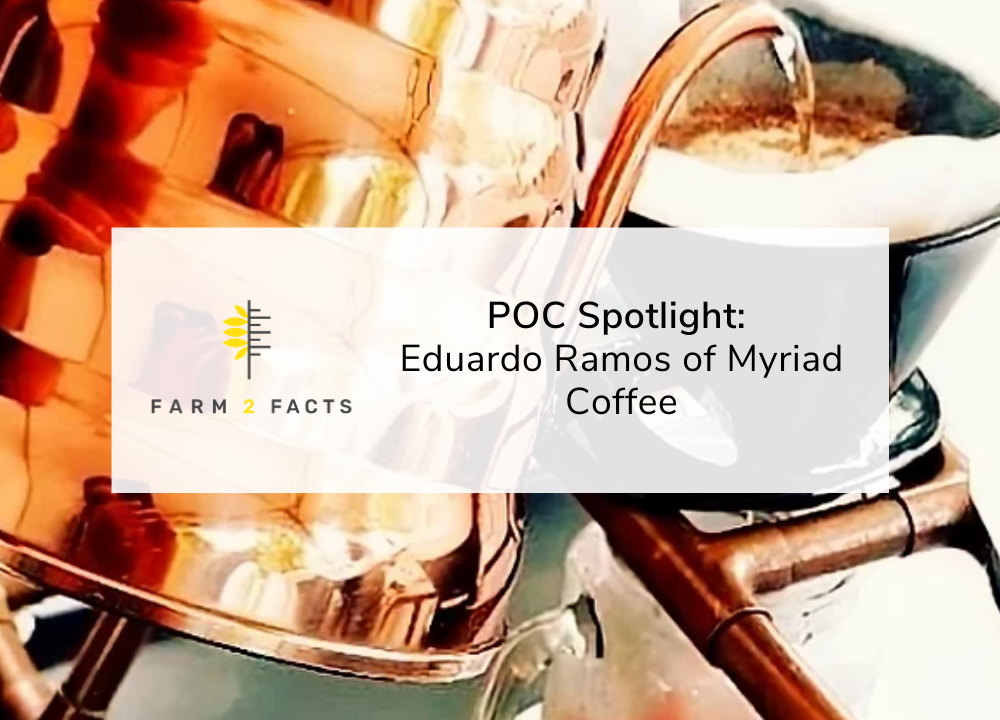 In an effort to represent POC voices and stories of those in the farmers market community, we asked market managers, vendors, and farmers to share their unique farmers market journey with us. We hope to share the experience of POC in the food system to increase their visibility and voice.
Our Farm 2 Facts member, Agricultural Community Events (ACE), put us in touch with this week's featured POC vendor, Eduardo Ramos. Let's see what he has to say about local food, farmers markets, and community.
How did you become involved with local food and farmers markets (previous work, jobs, education, other experiences, relationships, family etc.), and what are your responsibilities now?

My name is Eduardo Ramos. I have been working in the specialty Coffee industry since 2006. I've competed and judged barista competitions but as of recently I've helped other companies with their coffee education and training. After the fires in Sonoma County in 2017, I decided to open Myriad Coffee with the mission to help the world smile while brewing delicious coffee. We rotate different roasters both locally or find friendships with people treating their communities and farmers with respect and kindness. I own and operate Myriad Coffee with the intention of roasting our own coffee soon.

We would like to give attention to and praise your hard work and dedication in your community. What kind of community do you work with? If you have worked in other communities, how do they compare?

We mostly work at farmers markets. We have served Retrograde Coffee and Land & Water Coffee, both local to Sonoma County. We have operated in Healdsburg, Santa Rosa, Cotati, Rohnert Park, and Petaluma. We are blessed to have a solid following that comes to find us and support us throughout the week.

What have you learned about the importance of markets in communities? What impacts have you seen as a result of your work in your community?

Farmers markets are like a pillar or a core structure in defining what community is and strives to be. There is an extremely positive attitude when it comes to shopping with a healthy basket of produce directly from farmers or a loaf of bread from a local baker that you don't quite experience in a grocery store. In these last 12 months, since May 2019, I've noticed a harmony amongst vendors and customers of the market and a willingness to push through these challenging floods, fires, and viruses together.

If you feel comfortable sharing, would you please describe your experience in this industry/job? Do you think parts of your experience are associated with being a POC? In what ways do you think your experience is different from white vendors?

I've worked in the coffee industry since 2005. I believe it's best to see our gender as human. In futbol or many sports, it's common to play with all genders, ethnicities, and when you share a ball with everyone, you're not just playing for two hours, you're living in communion and sharing a passion. Coffee is no different. In the US we are very privileged to take a worldwide commodity such as coffee, and be able to drink it sometimes forgetting that it comes from third and second world countries. It's truly an honor. At Myriad Coffee we get to work with roasters both locally and from afar to help bring that experience to a farmers market.

Is there anything else would you like to share regarding this topic?

In no particular order, I'd like to take a moment to thank Retrograde Coffee, Cat and Cloud Coffee, Land And Water Coffee, Bluebeard Coffee, and Feast Coffee. All companies that have shared a place on our menu. Our mission to help the world smile while drinking becomes true with their help. 2020 and everyday should be a constant reminder that we are not just fighting for survival but we have an opportunity everyday to be a better, kinder and more considerate version of ourselves. Only then can we love stronger!

Interested in Myriad Coffee? Check out their Instagram @myriad_coffee or their website.

Interested in sharing your experiences and being featured on our blog? Send us an email at info@farm2facts.org. We love hearing from you!
Agricultural Community Events
Coffee
Local
Myriad Coffee
POC Experience
Sonoma County