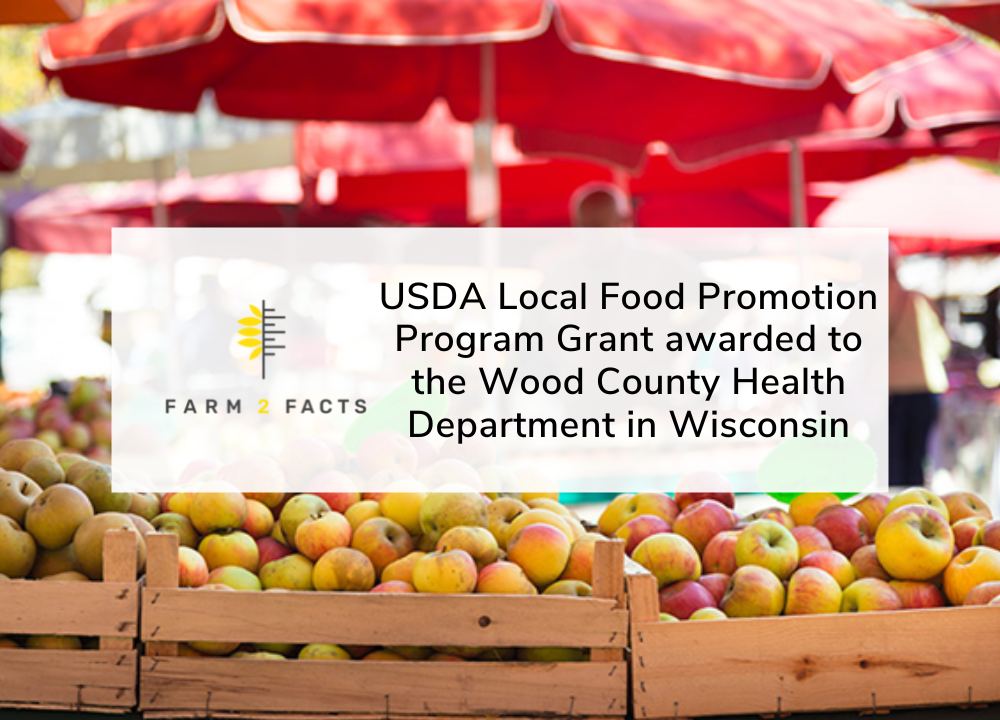 Introduction:
Farm 2 Facts (F2F) values community empowerment and actively works to uplift local economies by promoting and building strong and inclusive local food systems through the power of data. With this in mind, F2F is thrilled to have contributed to the process of securing a two year planning grant through the USDA Local Food Promotion Program (LFPP) for Wood County, WI. A total of $252,796 has been awarded to fund the project titled "Central Wisconsin Farmers Market Food Equity Project: Improving FoodShare Access At Farmers Markets Through Community Investment and Engagement." F2F is excited to continue our collaboration with this project by providing our data collection tools and resources.
Road to the Grant:
The journey to obtaining this grant started in 2019 when Portage County Health Department (PCCAN), UW-Madison Extension, and others formed a group to discuss how to bring EBT services back to the Stevens Point Farmers Market. The group began research and networking with local legislative leaders (Katrina Shankland and Patrick Testin), FoodShare/Farmers Market collaboratives across the midwest, state officials, local leaders, and local farmers. Through this network and further exploration of EBT services at farmers markets, a shared story became apparent throughout the state, especially in rural areas: EBT/FoodShare programs run on limited budgets, until funding or resources are used up. To continue this research the group decided to apply for their first grant through the Community Foundation, which unfortunately they were denied.
In 2020, F2F joined the established network and contributed to the research showing that EBT access is a systems-level problem. The team applied for two Wisconsin based-grants: Advancing a Healthier Wisconsin and Baldwin, which they again did not receive. Shankland, fortunately, was able to introduce a new line item into the governor's 2020 budget to better support EBT at Farmers Markets at a state level.
After three unsuccessful grant applications, the team reorganized, and in 2021 they applied again, and this time they successfully obtained the National USDA LFPP Grant!
About the Project:
The overall goal of this project is to create sustainable long-term plans for Foodshare expansion at regional Central WI farmers markets. Over the course of the next year, the Wood County Health Department, The Portage County HEAL Coalition, Farm 2 Facts, UW-Stevens Point, and UW-Madison Division of Extension–FoodWise will be working collaboratively on the project's objectives.
Objective 1: Facilitate regional food chain coordination by formally establishing a Central Wisconsin Farmers Market Collaborative (including Stevens Point, Marshfield, Wausau, Waupaca, Adams-Friendship, and Wisconsin Rapids) to sustain shared capacity to support and adapt to the ongoing and emerging needs of each market and community.
Objective 2: Support and promote local and regional food by addressing common barriers to accessing EBT/FoodShare/credit/debit at farmers markets
Objective 3: Develop unique business plans for Central Wisconsin farmers markets that incorporate a sustainable model for implementing EBT/credit/debit access at markets.
Objective 4: Evaluate the economics of Central Wisconsin farmers markets utilizing Farm 2 Facts(F2F) technology in collaboration with farmers market managers and market vendors
Current Progress:
Thus far, the team has held a kick-off event where farmers market vendors and community members from Central Wisconsin were asked to participate and contribute their opinions on the current EBT system and interest in implementation of these services into their markets. We have welcomed Taylor Christiansen to the team as our Central Wisconsin Regional Farmers Market Coordinator. F2F has begun research on the availability of online information for consumers regarding regional farmers markets and EBT/credit/debit services. We are also collecting vital geographic data about the regional markets.
Stay tuned for updates as we continue working on this valuable project!