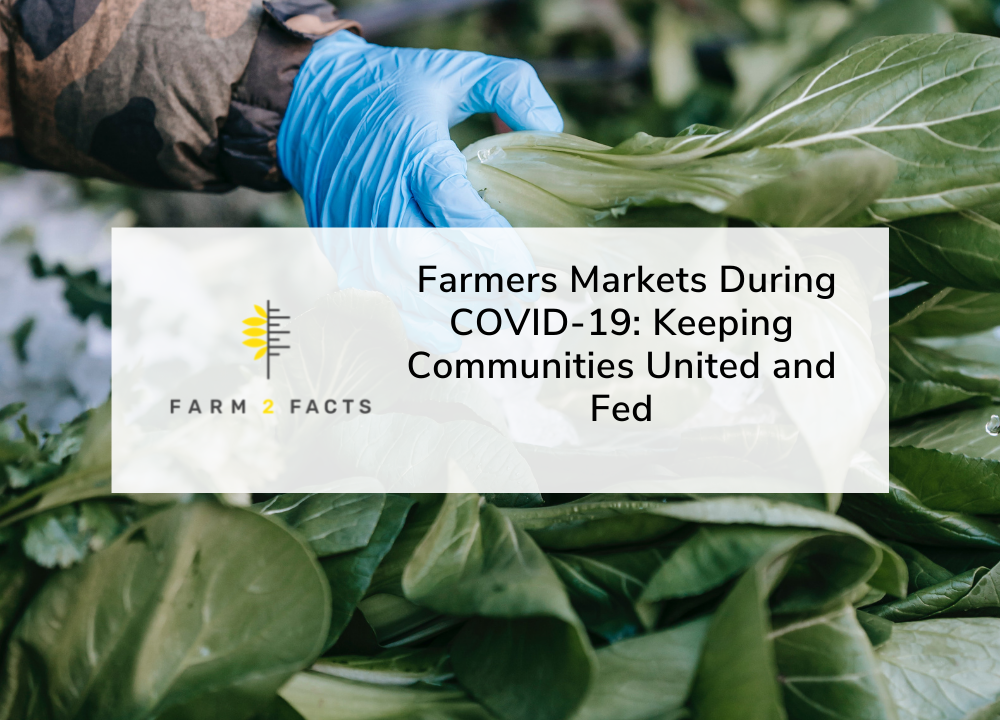 Just like thousands of other businesses across the world, farmers markets have had to adjust their methods of operation and consider the impacts of COVID-19. Farm 2 Facts market communities on both the east and west coasts of the United States have demonstrated an ability to manage drastic change over the past year.
Markets That Persist Against the Odds: Hope & Main and Ace Farmers Markets
Hope & Main (H&M) is a food hub and kitchen incubator in Rhode Island that expanded their functionality significantly during the height of the pandemic. H&M partnered with a nearby school district to get school meals to students, and soon after expanded the program to provide high quality meals to every community member who wanted them. They were able to distribute the most amount of meals in a finite amount of time by circumventing any registration or qualifications to be able to receive meals. These meals were paid for in part by a "Buy One, Give One" program where capable members of the community could purchase meals from the market, and proceeds went towards funding the free meals. This type of innovation and creative drive was essential to market survival during the pandemic, and will continue to be important as markets take on a significant role in leading communities back to life as usual.
Agricultural Community Events (ACE) Farmers Markets, located in the Bay Area, lobbied for the state government to categorize farmers markets as essential so markets in the ACE network could reopen as fast as possible. ACE worked with local health officials in each county that they operate in to establish safe and efficient practices for markets, vendors, and customers to use. This type of work was valuable to customers facing financial hardships, as ACE became one of their main sources of affordable, local food to remain operating while other stores and restaurants were closed.
Some Advice for Post-Covid Farmers Markets
The Hope & Main and ACE Farmers Markets offer evidence that farmers markets can overcome the detrimental impacts of COVID-19. While no two markets are the same, there are certain guidelines that all businesses should observe to ensure a safe environment. Just because higher percentages of the American population are receiving vaccinations does not necessarily mean that pandemic market restrictions should now be lightly enforced. Market managers must make sure that their customers, vendors, and suppliers are operating in a safe place that still limits the spread of the virus.
Managers are responsible for the health and safety of not just customers and vendors, but also for the surrounding community. It is important to take researched advice seriously when it comes to dealing with a farmers market. We have compiled a list of some helpful recommendations that all markets can incorporate into their business operations:
Inform your customer base of new restrictions and rules before the reopening of the market. You don't want customers to be caught off guard by sudden rule changes, so inform market-goers of any alterations before they attend the market. Make customers aware through your newsletters, website, and signage at the market.
Create an online ordering system that allows customers to place orders with contactless delivery/pick-up. Portions of the population are still cautious towards public interaction; it is important to offer methods of shopping that do not involve in-person contact.
Encourage the use of electronic payment and other touchless methods of payment that reduce the spread of germs. Technology such as Apple Pay allows customers to pay without touching any surface or employee.
Always have enough spare masks for any market-goer that may not have one. If a customer does not have a mask, you do not want to refuse them service and lose potential revenue; offering them a mask will allow them to enter the market and make purchases.
Have vendors require customers in line to observe social distancing of at least 6 feet at all times.
Require all vendors and operators to wear gloves and face masks at all times, and have sanitizer available for use.
Maintaining social distance, following adequate sanitary procedures, and requiring masks and contactless delivery are good foundations for success. Markets that continue to incorporate COVID-19 restrictions will reap the benefits of creating a safe space. Customers and business partners will appreciate the effort market managers and employees are continuing to put forth to protect those who interact with the market. Check out Farm 2 Facts' free downloadable icons that will help foster a safe environment at your markets.
Related Blogs:
https://farm2facts.org/communities-during-covid-from-coast-to-coast/
https://farm2facts.org/visual-aids-to-promote-covid-19-safety-at-your-farmers-market/